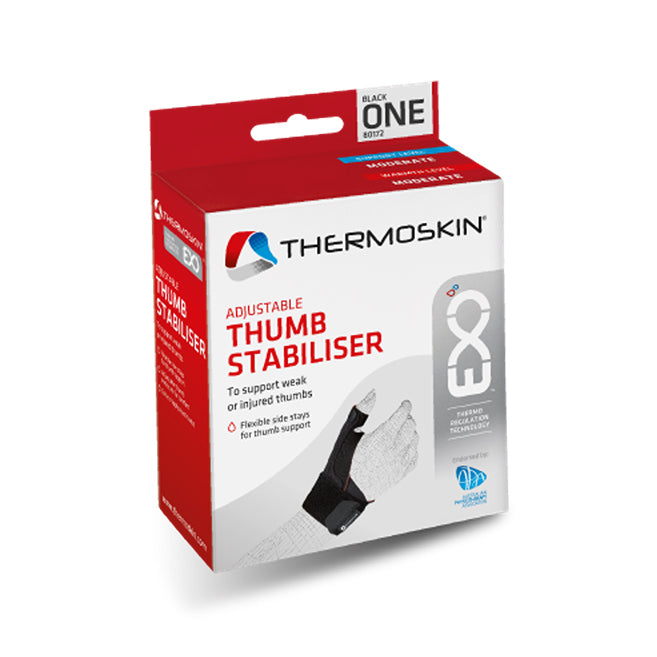 Thermoskin EXO™ Adjustable Thumb Stabiliser (1 Unit)
Sale
Sale
Original price
RM99.00
-
Original price
RM99.00
Description
Thumb Stabilizer has two flexible supports for each side of the thumb. These support the thumb joint and reduces the effect of overuse and hyperextension. Suitable for RSI injuries, office-workers, sportspeople or manual handling.
Support Level: Stabilising / Warmth Level: Moderate 
Australian Physiotherapy Association endorsed
EXO™ THERMO REGULATION TECHNOLOGY
A new innovation to the Thermoskin® range our exclusive EXO™ thermo regulation material releases energy in the form of heat. EXO™ converts moisture into heat, working to provide increased muscle temperature and blood flow to aid in recovery. This is effective in the management of pain and injuries to soft tissue. The EXO™ range helps to maintain a lightweight feel by converting moisture away from the skin, giving a longer more comfortable wear.

Injury List
Lateral Ulner Ligament Injuries (Skier's Thumb, Gamekeeper's Thumbs, Stener's Lesion)
Collateral Ligament Injuries
Carpometacarpal Joint Injuries
Arthritic Pain Management
Instructions
Slide thumb in the thumb portion of the support. Secure the thumb with fastener, either around the thumb or running along the stays. Fasten wrist and position support so that stays are positioned each side of the thumb. Wrap elastic around wrist and fasten in place. Adjust tension as required.

Material
Nylon, Polyester, Spandex, Rubber Foam. Does not contain Latex.
Warning
This product contains a synthetic fibre which may cause a reaction. Should irritation occur, discontinue use and seek medical advice.
Size
One size fits most. No measurement required
All Thermoskin products are designed and manufactured with high quality, durable materials specifically chosen to suit conditions, which ensures all product benefits listed are achieved. We encourage customers to look closely before purchasing cheaper imitations which may have similar claims to genuine Thermoskin products, but are often made from inferior materials, as they will often cause more harm than good.