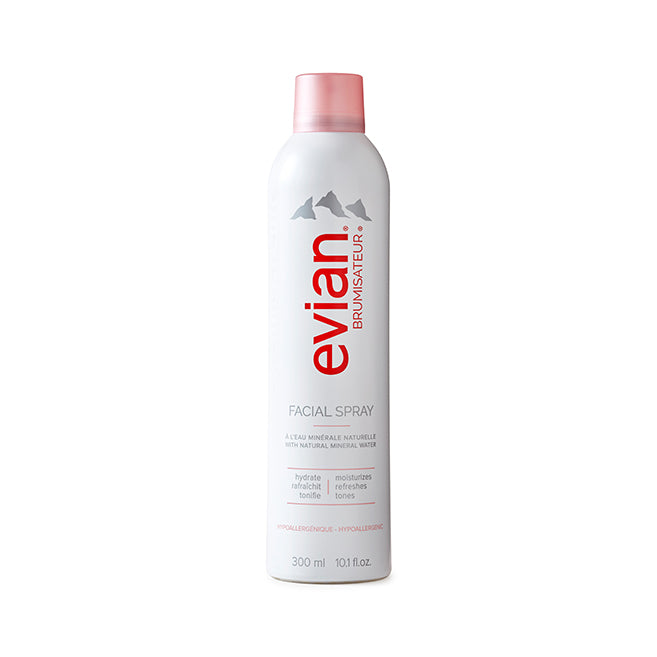 Evian® Brumisateur® Facial Spray 300ml [NEW]
Sale
Sale
Original price
RM59.90
-
Original price
RM59.90
Description
The number one choice of skin care professionals, Evian's Natural Mineral Facial Spray is long-lasting and should be a daily part of every woman's morning and evening skin care regime. Its neutral 7.2 pH is suitable for most skin types, even the most sensitive.
evian® Natural Mineral Water dates back to the birth of the Alps, more than 30,000 years ago. Each drop of evian® water starts as snow or rain at the top of the Northern Alps before making a 15 year journey through a vast mineral aquifer and finally emerging at the spring in Évian-les-Bains, France. This extraordinary journey gives evian® water the unique mineral composition and neutral pH that distinguishes it from other mineral waters.  
Propelled under high pressure by nitrogen (80% of the air we breathe is nitrogen), the ultra-fine pure, natural mist allows the skin to absorb a unique balance of beneficial minerals along with the water. Every drop of evian® is packaged at the source in Evian-les-bains, France in a state-of-the-art facility. Each canister is leakproof, and sealed and, therefore, cannot be contaminated. 
Tested under dermatological control
Suited to all skin types, even sensitive skin
Made in France
Each one second spray releases several million of micro-doplets
Research results
Use test (% satisfaction) on 62 women using this product twice daily for 4 weeks:
87% Less tightness in skin
89% Smoother, softer skin
92% Healthier skin
Use the
e
vian
®
Facial Spray several times a day. Leave on a few minutes to act and gently dab away. For the face, start at the neck and move slowly upwards.
Make up: After applying your foundation, spritz for 2 seconds 30 cm away from the face and allow to dry. This will set the pigments and help eliminate surplus for an even, natural look.
During travel

Completes make-up removal
Soothes after sun exposure
Refresh in hot weather
Sets make-up
After hair removal
At the office
Playing sport
After shaving
Gently cleanses baby's bottom
To wake up a dull complexion In the morning
Help relieve puffiness around the eye
Throughout the day, to revive colors