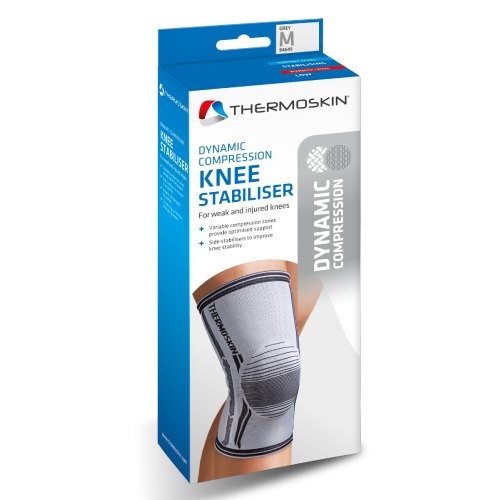 Thermoskin Dynamic Targeted Compression Knee Stabiliser (1 Unit)
Sale
Sale
Original price
RM149.00
-
Original price
RM149.00
Description
Designed for additional knee support through targeted compression zones and silicone patella ring for muscle maintenance pre and post injury.
Zone 1: Firm Compression
Flexible stabilisers with anti-slip are designed to allow freedom of movement whilst increasing support and knee stability during activity and while at rest
Zone 2: Moderate Compression
Circular knit to provide comfort across the knee patella, with silicone ring for optional kneecap stability
Zone 3: Light Compression
Back knit panel contours to the knee to minimise bunching and allows free range of movement
Injury List

• Jumper's Knee (Patellar Tendon Overuse Injury, Patellar Tendinosis, Patella Tendinopathy)
• Runner's Knee (Iliotibial Band Friction Syndrome)
Instructions
Wash support before wear. Place foot into wider end of the sleeve and slide along the leg until the gel pad panel is located over the kneecap (patella). Adjust the sleeve so that it sits comfortably.
Warning

The product contains natural rubber latex and silicone which may cause irritation and reaction. If pain persists, discontinue use and consult your medical professional.
Materials

Nylon, Polyester, Rubber, Spandex, Latex (patella ring).
All Thermoskin products are designed and manufactured with high quality, durable materials specifically chosen to suit conditions, which ensures all product benefits listed are achieved. We encourage customers to look closely before purchasing cheaper imitations which may have similar claims to genuine Thermoskin products, but are often made from inferior materials, as they will often cause more harm than good.